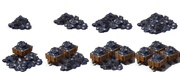 Coal is mined from special tiles containing coal.
Coal is mined by the Mine.
For Coal to be used as fuel is first has to be processed in the Kiln and turned into Coke.
Coal coke can be used in the same ways as Charcoal and has the same efficiency.