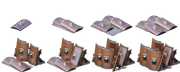 Heavy Shields are an Iron Age Resource used to recruit certain Units. They are unlocked after researching the Heavy shield Knowledge.
Heavy shields are large, wooden, rectangular shield, with a center boss and a curved shape. They closely resembles Roman scutum shields.
Heavy shields are produced at the Weapon maker and require Wood, Leather, and Iron or Steel.
To make 1 Heavy shield you need 1.5 Wood, 1.5 Leather and 1 Iron or 0.5 Steel.
Production
[
]
Units that require Heavy shields
[
]