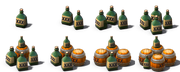 Rum is a Resource available in the Copper age. It is unlocked by researching the Rum Knowledge.
Rum is one of the types of Alcohol used to satisfy the alcohol Population needs. It is the alcoholic drink of the Tropical climate.
Rum is made from Sugarcane, Water and Pottery in the Rumery. It can also be used to provide alcohol for the Tavern building, at the lowest unit per Social cost of all alcohols.
Production
[
]